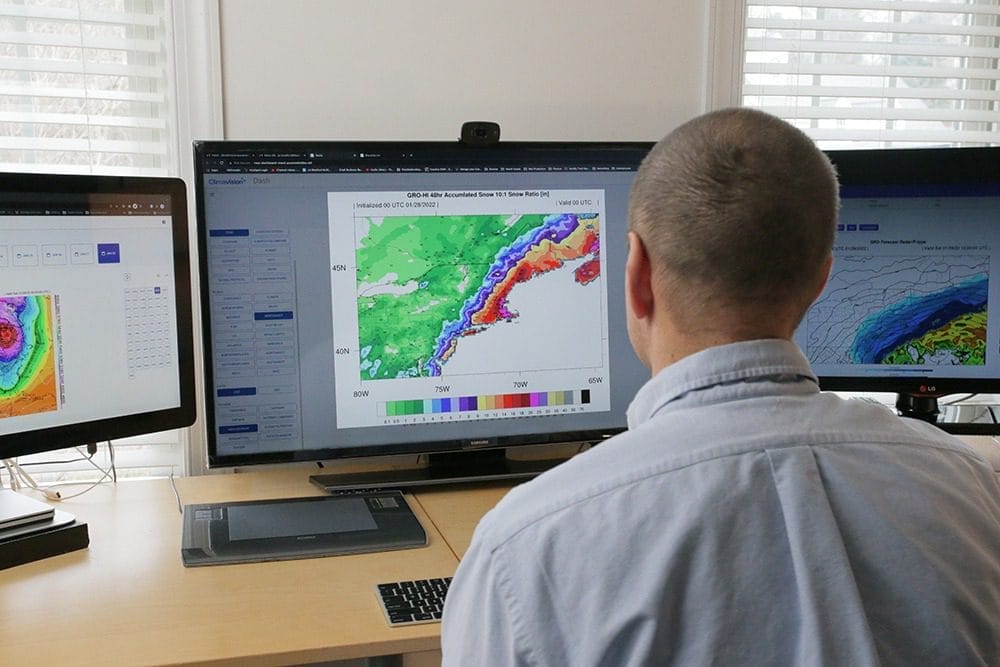 GRO FORECASTING
UNPARALLELED SCIENCE, UNAVAILABLE ANYWHERE ELSE
Our new approach to forecasting fills observational legacy gaps. Access to low-earth orbiting GPS-RO satellites offers global visibility and clarity. Coupled with our cutting-edge technology, we can forecast the growth of major storm systems or big atmospheric changes with precision and speed.
FASTER, MORE ACCURATE FORECASTING – AS ONLY CLIMAVISION CAN DO
Climate change represents the largest threat to the well-being of life, industry, and governments around the planet. These significant changes in weather patterns, severity, and events mandate prioritized and improved weather and climate observations.  Significant gaps in current forecasting methods require new thinking and new approaches. 
 
At Climavision, we've attacked the challenge by filling gaps with unique and proprietary observational data from our weather radar network and GPS-RO data access. This novel data set allows our GRO model to outperforms any gives us the ability to track storms as they form over the ocean and move across land with more precision than ever before. 
PRODUCT Features
Up to 6 Cycles per day

 

Raw gridded outputs

 

128 vertical levels

 

GRIB2 Data Native

 

15-Day forecast range in 60 Minute time Steps

 

Flexible timing & frequency of delivery

 
PRODUCT Benefits
More accurate forecasts of day-to-day weather

 

More accurate forecasts of upper-level winds in the short and medium range

 

More accurate predictions of heavy-precipitation events

 

More accurate hurricane forecasts with longer lead times

 

Increased weather data collection over observation sparse areas, such as oceans

 

Improved space weather forecasts

 

THE GPS-RO DATA ADVANTAGE
A NEW WEATHER VIEW
Our GRO Model's key input comes from proprietary, low earth orbiting GPS Radio Occultation data (GPS-RO) satellites. Originally developed for exploring other planets, these satellites help create a more accurate profile of our own atmosphere, particularly where weather observations are sparse, such as over the ocean. This level of visibility paints a more complete weather picture. 
BETTER VIEWS. BETTER MODELING. EXCEPTIONAL FORECASTS.
Climavision's access to the GPS-RO network of satellites generates exceptionally accurate observational profiles. This view from space has demonstrated significant improvements when properly assimilated into weather and climate modeling as well as space weather prediction.  
UNPARALLELED EXPERTS IN DATA ASSIMILATION

 



OUR DATA CUSTOMIZED TO PERFECTLY FIT YOUR NEEDS.
Climavision's robust modeling and compute environment brings a highly differentiated approach to the industry – leveraging sophisticated techniques:
New AI techniques have increased the data yield on the 3.5 billion global weather observations collected each day to drastically improve our forecast accuracy.
Optimized cloud resources, data and compute bursts are scaled-out to meet the custom variability needs in size, frequency, visibility and forecast parameters.
Our approach and architecture allow us to easily customize outputs for specific customer needs in API form for integration into internal systems, or in a map-based UI.

WE'RE REVOLUTIONIZING THE WEATHER INDUSTRY
Our extensive weather data and revolutionary, proprietary climate technologies identify real-time dangers and produce more accurate predictions and forecasting models.
Learn More About What Makes Us Different

Radar Network
First of its kind, proprietary, high-resolution, low-atmosphere radar network

Advanced Modeling
Advanced numeric weather prediction modelling with unprecedented processing speeds

Satellite Network
High resolution, global observational datasets for advanced weather forecasting

Technical Expertise
Unparalleled technical expertise across infrastructure and weather forecast information
Industries
Seize the CLIMAVISION Advantage
The increasing frequency of catastrophic weather events calls for new solutions to mitigate risk, protect property, and save lives. Our proprietary scanning and forecasting technologies deliver faster, more accurate weather insight, leading to more confident decision making in critical situations.