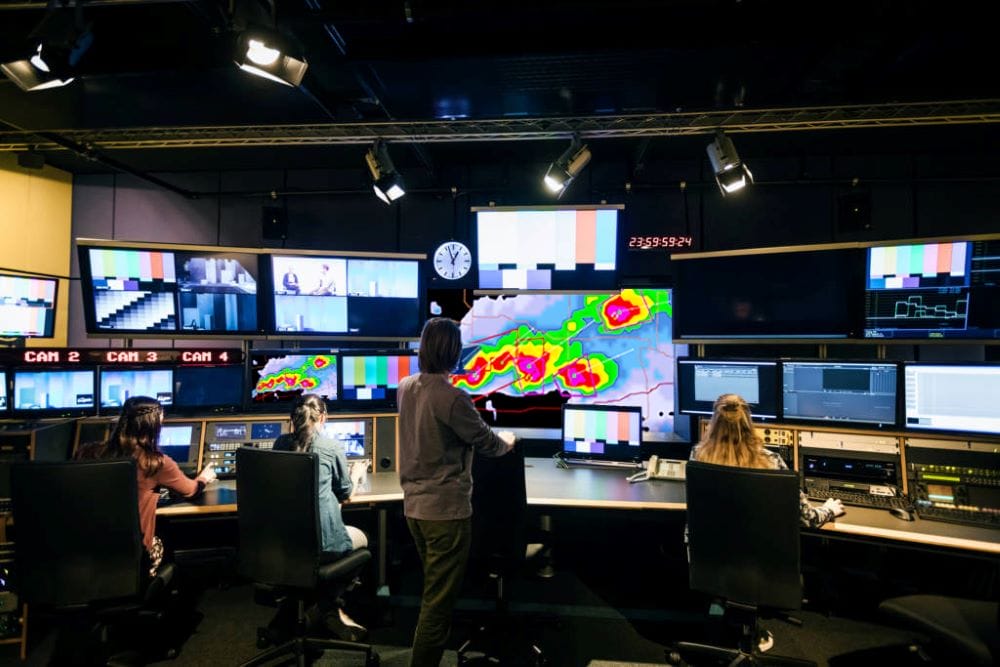 MEDIA
BREAKING WEATHER CALLS FOR SPEED AND ACCURACY
Audiences see what's coming and what's happening in their neighborhood when our comprehensive Radar as a Service delivers high-resolution, real-time weather coverage. Alert audiences sooner and with greater precision. Benefit from an exclusive, promotable high-resolution radar without the capital expense and costly maintenance tied to purchasing your own radar.
GET AHEAD OF THE STORM AND YOUR COMPETITORS
With extreme weather events happening more often than ever before, accurate, real-time weather coverage has never been more critical. In the world of broadcast media, severe weather events increase viewership, website and app views, and drive advertising spend. Until now, TV stations have typically had to purchase their own radar system, which for many is a cost prohibitive expenditure. Now with our exclusive Radar as a Service (RaaS), stations get all the data they need, when they need it to keep their communities aware and safe.  
To make a significant leap in forecast accuracy, Climavision knew the data sets needed to be expanded and enhanced. So, we added unique observational data from GPS-RO satellites and our proprietary radar network. As anticipated, more hard work from the very beginning pays off in the end with more accurate forecasts for you and your audience. 

SOLUTION: RADAR AS A SERVICE
RADAR THAT PAINTS A CLEARER PICTURE
Our Radar as a Service integrates seamlessly into your existing visualization equipment, and proprietary nowcast for adding insights into your analysis. And no matter what digital platform your viewers are using – web, mobile or social – you can reach them with gap filling radar data to help them plan and prepare.  
Benefits of RaaS
Accurately track weather systems

 

Predict precipitation volume and precise locations

 

Determine what types of precipitation to expect

 

Detect trailing systems

 
SOLUTION: GRO FORECASTING
A NEW VIEW FOR YOU
Our access to GPS-RO satellites and other global high-resolution data generates exceptionally accurate observational profiles that power the industry's leading numerical weather prediction model – faster and more accurate than ever before. Allowing you to identify extreme weather and climate trends sooner and more precisely.  
Benefits of GRO Forecasting
Additional dataset to provide on-air

 

Ability to differentiate within the market 

 

Utilize directly within your current on-air weather vendor

WE'RE REVOLUTIONIZING THE WEATHER INDUSTRY
Our extensive weather data and revolutionary, proprietary climate technologies identify real-time dangers and produce more accurate predictions and forecasting models.
Learn More About What Makes Us Different

Radar Network
First of its kind, proprietary, high-resolution, low-atmosphere radar network

Advanced Modeling
Advanced numeric weather prediction modelling with unprecedented processing speeds

Satellite Network
High resolution, global observational datasets for advanced weather forecasting

Technical Expertise
Unparalleled technical expertise across infrastructure and weather forecast information
"

While the number of events trended down globally in 2021, North America once again experienced an increase in both frequency and severity.

"
Barclays
Insights
Want to learn More? Read our latest blog posts: